My  new art is very eclectic. In fact, my  - 'Big Hair' - I call 'Marmite'! You either love it or hate it! I, myself do like to do anything thats a bit off the wall, which is why I have stopped doing landscapes and the such-like ... at least, for the time being...
I grew up in the 60's and 70's era which is now very much reflected in my art; very bright colours; psychedelic patterns, and lots going on...etc...etc.
My Big Hair and other very colourful works are created on Bristol Board with artist's markers and water colour pens, which blend really well. I started out with just 'Sharpies' and other various 'felt tip' type pens, which work well for vibrant "blocky' work. But to bring a painting alive there has to be blending and shading, which is where the watercolour pens come into their own.
My collage work is very different, but just as much fun. In the main I use acrylics, and each work is made up of layers, whereby the first layer of base colour is barely recognisable once the work is finished. Anything goes with these works; stamping - with anything from a custom made shop bought stamp, to the end of a cardboard tube, with many other things in between; stencilling using paint or any number of pastes through the stencil.
Then there's adding all manner of bits and pieces by gluing them onto the surface, and then painting/stamping/printing over the top. Or allowing just a small portion to be recognisable. As with any piece of artwork, but especially with these collages, it's always hard to know just when to stop - or when the painting is done. It's so very easy to overwork one of these, and there's much truth in 'less is more'.
I've not long started working with water colours; particularly offsetting their soft wispiness with the sharpness of pens. I find it fascinating how great effects are made with just a very transparent layer of watery paint in this medium; but at the same time when more is used they can be built up into very vibrant colours.
I'm still developing my style with watercolours; they're versatile in many ways, and I'm trying all of them!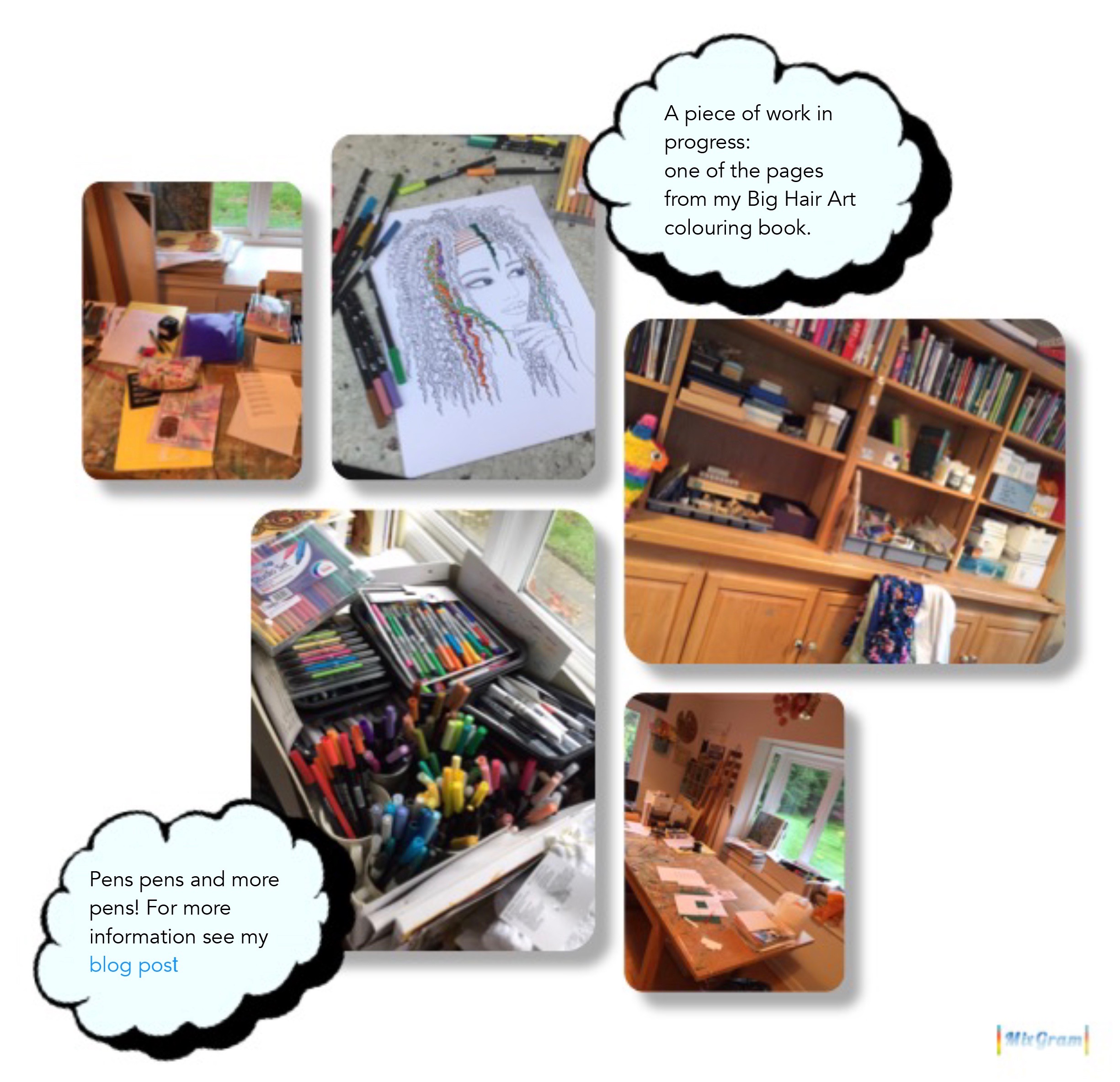 That's where I am at the moment on my art journey; undoubtedly I will keep moving onto other subject matters and mediums. With art I really do feel you just have to go with it; whatever you feel like doing - do it. There's no rules stating you ought to be painting this or that... this way or that way. There should be no stress; as I said before, art should be - and to me is, therapy itself.